Employee Assistance Program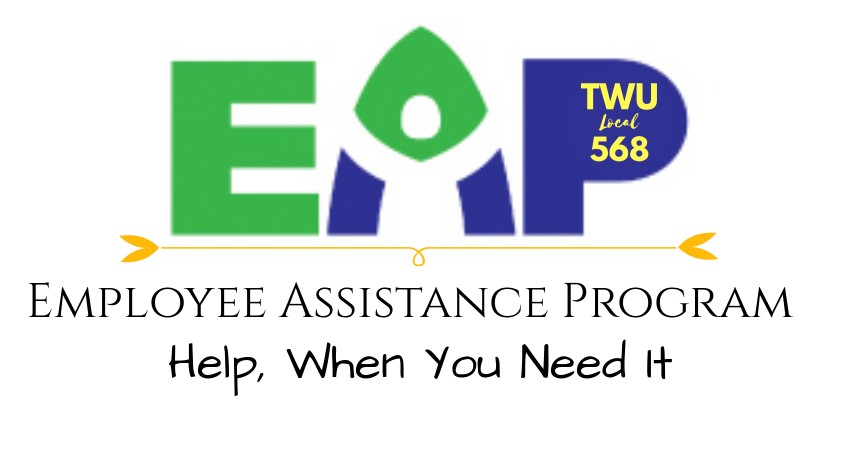 The Employee Assistance Program (EAP)
The Employee Assistance Program (EAP) is part of the TWU Local 568 Wellness Program. The EAP is a no-cost member benefit that is also available to immediate family members. The EAP provides confidential/professional assessments, short-term, problem-focused counseling and referral assistance for employees and their families experiencing problems that may affect work performance, job satisfaction, or overall quality of life.
EAP counselors typically provide assessment, support, and referrals to additional resources such as counselors or other professionals to assist on the member's well being. The issues for which EAPs provide support vary, but examples include:
Substance abuse

Financial hardship

Occupational stress

Emotional distress

Major life events, including births, accidents, and deaths

Health care concerns

Non-work-related legal concerns

Family/personal relationship issues

Work relationship issues

Concerns about aging parents
The EAP not only offers solutions but also focuses on prevention. Confidentiality is maintained in accordance with privacy laws and ethical standards. Participation is voluntary but highly recommendable. Don't be afraid and reach out; our team is always ready to provide the help that you need when you need it.
EAP COORDINATORS
RAMP:
Mike Sherman - (786) 201-6059
Rhonda Russell - (305) 962-4970
Jose Pagan - (305) 321-0255
CARGO:
Gilda Brown-Suluki - (305) 333-2552
Bob Norman - (954) 668-8290
TPA:
Enrique Hernandez - (813) 502-3965
EAP PEER COORDINATORS
Ricardo St. Vincent - (305) 725-9046
Lawrence Dolisca - (954) 559-7718
Rene Ruiz - (305) 761-8669
Theo Johnson - (786) 295- 1023
IMPORTANT PHONE NUMBERS
Emergencies
911
National Suicide Prevention Lifeline
Alcoholic Anonymous 24/7
National Veterans Helpline
National Council for Problem Gambling
Page Last Updated: Sep 20, 2022 (21:19:26)